Peter Max, State Fair Meadowlands to Unveil Max's Newest Creation:
---
A Colorful Rendition of State Fair, on July 2
Mr. Max and Al Dorso will appear together onstage at State Fair to share Max's latest painting, 'State Fair Meadowlands' for the very first time

 
East Rutherford, NJ – June 25, 2014 – State Fair Meadowlands today announced that Peter Max, the greatest living colorist in America, will unveil a special commemorative painting of the fair on July 2 at 7 pm, on the Main Stage at State Fair Meadowlands. Mr. Max will be on stage with Al Dorso, President of State Fair, to share the painting, "State Fair Meadowlands," with the public for the very first time.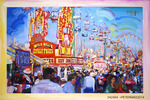 "State Fair Meadowlands is a vibrant, colorful toast to Americana that arrives promptly every year to delight our friends and neighbors with its colorful lights, majestic animals, thrill shows, rides galore and mouthwatering treats for every palate. Only Peter Max, with his fluid brushwork and big bang of cosmic color, could capture the fair's magic on a canvas and radiate the wonderment and excitement we all feel when entering the fairgrounds," said Al Dorso, President of State Fair Meadowlands. "We are deeply honored to have this spectacular work of art to cherish for years to come."

Peter Max emerged as a powerful force in the Art World from the prestigious Art Students League, alongside such artists as Robert Rauschenberg, Jackson Pollack, Cy Twombly and Norman Rockwell.  The League was a formative influence on these artists' innovative artwork, and has led each and every one to greatness and an important legacy in history. For more information about Peter Max, go to www.petermax.com.
 
State Fair Meadowlands runs through July 6, with over 150 rides and attractions on over 35 acres of fairgrounds. The fair features more than 50 food vendors and entertainment is free with entry ticket; fairgoers can enjoy all-day access to live music concerts, the Racing Pigs, the Big Cat show, the Shark Bait comedic juggling act, hypnotist Steve Bayner and, for the first time this year, an Open-Air Circus featuring a real live human arrow and high-wire acts. Fairgoers also won't want to miss taking a ride in the Batcopter, the original helicopter from the 1960s TV series, as well as the Skyride, an all-time family favorite. This week's concerts include an appearance on Friday, June 27 by Red Jumpsuit Apparatus, and on Saturday, June 28 by Heffron Drive, featuring Kendall Schmidt of Big Time Rush.
 
Fair hours are Monday through Thursday, 6 pm to midnight; Fridays 6 pm to 1 am; Saturdays 2 pm to 1 am; Sundays 2 pm to midnight. On Thursday, July 3, the fair is open 6 pm to 1 am; on Friday, July 4 from 2 pm to 1 am. Parking is free Monday through Wednesday, and $5 Thursdays through Sundays. The fair will be offering free shuttle buses from/to Secaucus Junction. Visit www.njfair.com for more information and a list of Bargain Days.